8 Big-Time Decor Tips for Turning a Tiny Space Into a Designer's Dream
When you're working with limited space, every inch is precious. But just because your home is itty-bitty, your furniture and decor shouldn't have to be as well.
"Most people in small spaces get lots of tiny things," says Christina Hoffman, who lives in an 828-square-foot bungalow and co-created the curated luxury home goods site Epitome Home. "Get rid of the clutter, and go for cooler, larger pieces—just fewer of them. Get one large, cozy sofa instead of a tiny love seat and a chair, or do one big piece of art, rather than a gallery wall of tiny pictures."
"Bigger is always better than smaller," says Jaimee Rose of Jaimee Rose Interiors in Phoenix. "Small furniture makes small rooms seem even more petite."
Thankfully, retailers—from e-commerce sites to traditional big-box stores and everything in between—have taken note and are now offering a plethora of options to solve even the tightest space challenges. Follow these designer-approved tips to make a big decor statement—without feeling cramped.
1. Add acrylic pieces

Photo by Lisa Petrole Photography

Acrylic furniture is chic, minimal, and durable, and doesn't take up a ton of visual real estate. (You can see through it, after all.)
We love this made-to-order piece from Epitome Home, which put together a delicious collection of all-acrylic pieces. For a more affordable option, try this coffee table from Overstock.com or this classic from CB2.
The airiness of acrylic pieces counteracts the heft of chunkier furniture like dressers and desks, and their relatively light weight makes them easy to move around on a whim.
2. Rely on multipurpose furniture

Photo by Valet Custom Cabinets & Closets
When buying furniture for a small space, consider functional pieces that tuck away nicely when you're not using them; flip-down desks and Murphy beds are tried-and-true staples.
"When installed on walls, these types of products look like other items, and transform when they are pulled down for use," Hoffmann says. "They don't take up visual space until you need it."
We also love this coffee table that morphs into a dining table. And for a high-end, custom experience, check out Ori, a new line of modular furniture that glides, slides, and folds out with the touch of a button. The company's full-size bed configuration transforms to offer a full-scale bedroom, office, and living room. (Bonus: The company's app allows you to control your configuration from anywhere. The future is now, guys!)
3. Use airy étagères
Photo by Safa Interiors, LLC
Bookshelves can feel and look heavy in small spaces. Étagères, or open-backed bookcases, offer the same storage capacities without the heft and enclosed sides of a traditional solid bookcase.
4. Maximize your mirrors

Photo by Chango & Co.
If you do nothing else to make your small space feel bigger, invest in a couple of oversize mirrors. Large mirrors can be propped on the floor or placed behind furniture to impart a glamorous, spacious feel in tight areas. Hoffmann recommends choosing mirrors that look like windows or placing a mirror opposite a window to reflect the natural light and setting outside.
5. Pick pieces with punch

Photo by Kimball Starr Interior Design
"Just because your space is small doesn't mean that you can't go for some design punches. When you have less furniture, it's all the more reason to go big with design details," says Maize Jacobs-Brichford of Brynn Olson Design Group in Chicago. She loves the Gallop bench from CB2 for exactly that reason: "It's small on space, big on design."
6. Invest in a wardrobe

Photo by The Cotswold Company
If you're renting, low on closet space, or simply not ready to commit to built-ins, all is not lost. For most of your storage needs, all you have to do is try a really great wardrobe. Don't fret over the size of these pieces: If you choose one that's on the thinner side, it'll draw the eye upward and create the illusion of more space with its height, experts say.
7. Nix the floor and table lamps
Photo by jessop architects
It should come as no surprise that good lighting can make any space appear bigger. If you own your place, nix your table and floor lamps in favor of pendant or ceiling light fixtures, which draw the eye up and create the illusion of more space. (If you rent, you don't have to give up your chandelier dreams; you just have to get a little creative.)
You can also consider mounting wall sconces (on either side of a bed, for example), Hoffman recommends. Wall sconces not only give you back the space you would have taken up with table lamps, but they also cast light up and down and make walls appear taller.
If you're a renter or unsure about drilling into the wall, try positioning a mirror opposite a dining room light fixture or decorative lamp to reflect more light and make the room seem larger.
8. Add plants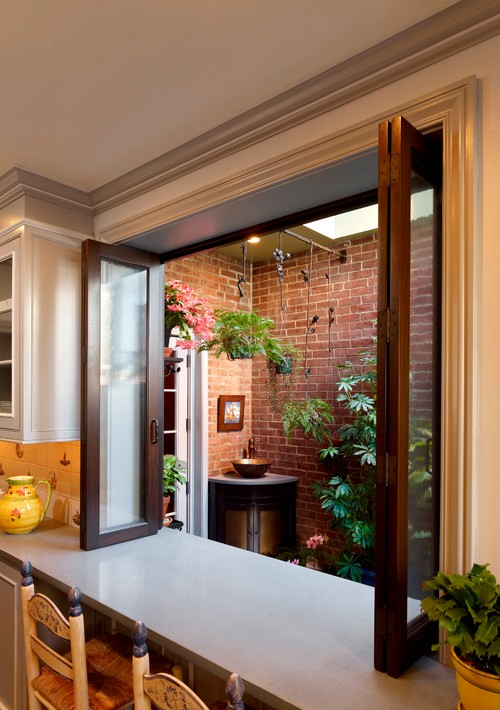 Photo by Terra Studio
Want to instantly add 3 to 4 feet of space to a room? Try hanging a fern or other plants outside your window, Hoffmann recommends. This amazing little trick draws the eye outside and tricks your brain into believing a small space is larger than it is—plus, you create a gorgeous, verdant view right outside your window.
If hanging plants outside isn't feasible, consider hanging a few low-maintenance varieties from the ceiling in small galvanized planters.
"Plants bring life and color to any room," says Jessica Davis of JL Design Nashville, in Nashville, TN. "Place air plants in a container on a shelf or large plants in containers on the floor, and group them together to fill up visual space."